HOME School Life "School Facilities"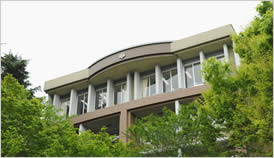 School Building
Completed in January of 2009, the Mejiro Kenshin school building is five stories tall and is designed to let sunshine into all the classrooms. The school building also hosts a wide range of facilities conducive to learning.
Entrance(2F)
Located on the 2nd floor, the entrance faces East, providing plenty of natural light.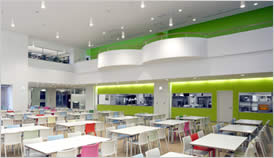 Cafeteria
The cafeteria is a spacious, open area with vaulted ceilings and many windows making it an ideal place for students to relax and enjoy their lunches. Students can buy school goods and snacks at the school shop located in the cafeteria.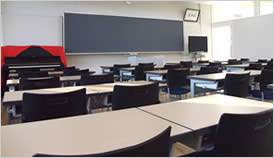 Classrooms
The classrooms are located on floors 3 to 5. Every classroom is filled with sunlight.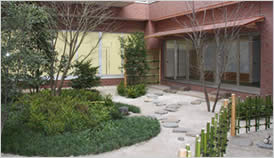 Inner Garden
In the center of Mejiro Kenshin lies a beautiful Japanese garden.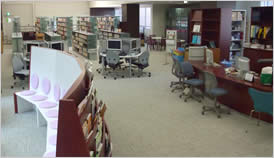 Media Center
The media center consists of the school library, computers with Internet access and a study area. Students can find information on universities, entrance and proficiency exams and international exchanges.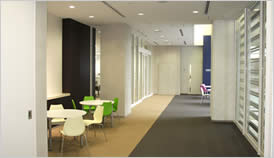 Learning Area
The learning area is where students can ask teachers for help and also makes a great place for informal meetings.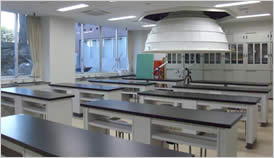 Science Floor
The science floor is located on the first floor and consists of three science rooms where physics, chemistry, biology and geology classes take place. Located on the same floor is a computer room and computer room / language laboratory both equipped with projectors.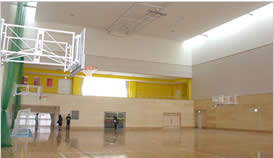 Gymnasium
The main gym located on the second floor is where sports clubs like cheerleading and basketball can practice. In addition to the main gym, clubs can also use the small gym and multi-purpose room located on the first floor.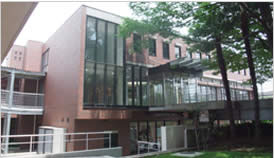 Building No.9
Connected to the main school building via walkway is Building No. 9. It is a three-storied building that houses Super English Course classrooms, two music rooms, the art room, craft room and home economics room.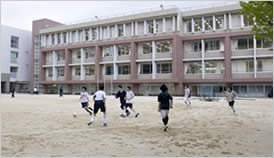 Field
Located right outside the main school building, the field is used for both PE classes and for clubs like soccer, baseball and lacrosse. It is equipped with lights so club practices can be held in the evening and during the winter.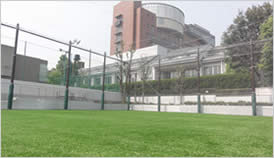 Secondary Field
Completed in May of 2012, the secondary field is 480 ㎠ and covered with artificial turf. The secondary field is enclosed with a net to prevent balls from escaping and has LED lights for nighttime practice. The baseball, soccer and lacrosse clubs often practice here.